International Congress in Spirituality and Psychiatry
4th Global Meeting in Spirituality and Mental Health
Organized by the WPA Section on Religion, Spirituality and Psychiatryhttps://www.rsp2019.org/
WPA Co-sponsored Congress
Spirituality/Religion & Mental Health: Translating knowledge to practice – Building bridges
 
Spirituality/Religion is relevant to most of human beings, 84% of world's population
reports a religious affiliation. Systematic reviews of the academic literature have identified
literally thousands of empirical studies showing the relationship (usually positive but also
negative) between Spirituality/Religion and health. However, there has been world wide a huge gap between
knowledge available about the impact of Spirituality/Religion to health and the translation of this knowledge to the actual clinical practice and public health policies. Given this, the WPA recently published a
Position Statement on Spirituality and Religion in Psychiatry emphasizing the importance of
integrating Spirituality/Religion in clinical practice, research and education in Psychiatry. This Congress will
focus on practical implications, on how to sensibly and effectively integrate Spirituality/Religion in mental
health care and public policies.
WE LOOK FORWARD TO WELCOMING YOU TO JERUSALEM!


---
International Congress in Spirituality and Psychiatry & 4th Global Meeting in Spirituality and Mental Health – Organized by the WPA Section on Religion, Spirituality and Psychiatry.

Bernard Janse van Rensburg, Secretary WPA Section on Religion, Spirituality and Psychiatry (bernard.sasop@mweb.co.za)
The WPA Section on Religion, Spirituality and Psychiatry (R/S &P) in association with the Israel Psychiatric Association from 1 to 4 December 2019 at the Mishkenot Sha'ananim, Yemin Moshe in Jerusalem. The meeting was co-hosted a very successful meeting in Jerusalem, which attracted 350 delegates from 35 countries. Co-convenors of the meeting were Prof Haim Belmaker (Israel) and Drs Avdesh Sharma (India) and Peter Verhagen (Netherlands). Key-note speakers included Sr Gayatri Naraine (India), Prof Helen Herrman (Australia), WPA President and Prof Alexander Moreira-Almeida (Brazil), Chair WPA Section on R/S &P. More than 40 posters presentations and 20 oral sessions were scheduled, including invited speakers Marwan Dwairy (Israel), Paul Summergrad (USA), Francis G. Lu (USA) John Peteet (USA), Simon Jones (Australia), Kate Miriam Loewenthal (UK), Christopher Cook (UK), Alan Fung (Canada), Richard Doblin (USA), Albert Gaw (USA), Elaine Drysdale (Canada), Alison Gray (UK), Essam Daod (Israel) and Gerrit Glas (Netherlands).
Sister Naraine's address was entitled "Compassion Fatigue: Embracing Spirituality" in which she emphasized the reality of carer burnout, its causes and how to counteract it. In her address "Psychiatrists and Community Partners Examine Religion and Spirituality," Prof Herrman presented alluded to WPA Section on R/S & P's position statement, which delineates this new discipline's boundaries which considers defined spirituality into account when considering the psychiatric practice (history, diagnostic formulation and treatment interventions), as well as teaching and training. She alluded self-care and community-based partners as the broad base of pyramid of the WHO's model for mental health service,  allowing for a strong and extended alliance with faith-based and other community organizations, for access to quality mental health and psychiatric care. Prizes for the best poster presentations were awarded and presented at the closing of the meeting, as follows:
1st prize – Bruno Paz Mosqueiro. Religion, Spirituality Motivation for Change and Self-efficacy in Crack-Cocaine Brazilian Patients
2nd prize – Jeremy Baruch and Kristen Collier. Healing Presence: An Elective ICU Curriculum for Medical Students Based in the Clinical Pastoral Education Training Model   
3rd prize – Chris Roe. Clinical Parapsychology: The Interface between Anomalous Experiences and Psychological Well-being
The WPA Section on R/S &P also held an annual general meeting on the 2nd December 2019, including discussion of the following: WPA 2020 elections, the next meeting global meetings, partnership with faith communities. translation of position statement, contact with national associations and creating a Section budget.  

Section Secretary bernard.sasop@mweb.co.za • Section Website: www.religionandpsychiatry.org
CONGRESS PROGRAM OUTLINE
 SUNDAY, DECEMBER 1, 2019 Auditorium de Botton

10:30               Opening

10:35 – 11:30    OPENING LECTURE BY REPRESENTATIVE OF BRAHMAKUMARIS TO UN – COMPASSION FATIGUE: EMBRACING SPIRITUALITY   Sister Gayatri Naraine,

11:30 – 12:00    KEYNOTE LECTURE BY THE WPA PRESIDENT – PSYCHIATRISTS AND COMMUNITY PARTNERS EXAMINE RELIGION AND SPIRITUALITY   Helen Herrman, WPA President, Australia

13:00 – 15:30  SESSION 1: PLENARY LECTURES    

16:00 – 17:30  SESSION 3:    INSIGHT FROM HINDUISM, ISLAM AND JUDAISM

Auditorium de Botton 

Fostel Room 

16:00 – 17:45  SESSION 2: SPIRITUALITY INTEGRATED PSYCHOTHERAPIES

16:00 – 17:30  SESSION 3:    INSIGHT FROM HINDUISM, ISLAM AND JUDAISM

18:00  Welcome Reception

 MONDAY, DECEMBER 2, 2019 Auditorium de Botton

08:30 – 12:00  SESSION 4:    PLENARY LECTURES

12:00 – 13:20  SESSION 5:    STATE OF THE ART: THE SPIRITUALITY, RELIGION  AND MENTAL   

                           HEALTH RELATIONSHIP    

14:20 – 15:20   SESSION 6:    INTEGRATING SPIRITUALITY AND RELIGION IN THE TREATMENT PLAN

Auditorium de Botton 

Fostel Room 

15:50 – 17:10 SESSION 7:     SPIRITUALLY INTEGRATED HEALTH CARE 

15:50 – 17:20  SESSION 8:      SPIRITUALITY AND MEDICAL PRACTICE 

17:30 – 18:30  BUSINESS MEETING    Fostel Room 

 TUESDAY, DECEMBER 3, 2019 – Auditorium de Botton

08:30 – 12:00  SESSION 9:  PLENARY LECTURES

Auditorium de Botton 

Fostel Room 

12:00 – 13:20  SESSION 10:    PSYCHIATRIC AND PSYCHOLOGICAL INSIGHTS  PROVIDED BY SPIRITUALITY AND RELIGION SACRED TEXTS 

12:00 – 13:30  SESSION 11: PRAYER, MUSIC AND POSSESSION

14:30 – 15:30  SESSION 12:   EMBODIED SPIRITUALITY: FROM BRAIN TO BEING IN THE WORLD

14:30 – 15:30  SESSION 13: PROF HERMAN VAN PRAAG BOOK LAUNCH

16:00 – 17:40  SESSION 14:    EMPIRICAL APPROACHES TO SPIRITUALITY

16:00 – 17:45  SESSION 15:  REALITIES AND BOUNDARIES: PSYCHIATRIC AND SPIRITUAL PRACTICE

WEDNESDAY, DECEMBER 4, 2019 – Auditorium de Botton

08:30 – 12:00  SESSION 16:  PLENARY LECTURES

Auditorium de Botton 

Fostel Room 

12:00 – 12:40  SESSION 17:    ARE THERE BORDERS BETWEEN PSYCHIATRY    AND SPIRITUAL TREATMENT?

12:00 – 12:45  SESSION 18: NEW DIRECTIONS IN PSYCHIATRY AND SPIRITUALITY 

13:30 – 15:00  SESSION 19:    SPIRITUALITY AND PSYCHOTHERAPY

13:30 – 14:45  SESSION 20: SPECIFIC ISSUES IN PSYCHIATRY AND RELIGION       

15:30 – 16:30  SESSION 21:  UNIVERSALISM AND PSYCHIATRY

15:30 – 16:45  SESSION 22: ASSESSING NEED      

16:45 – 17:00 FOUNDERS AWARD CEREMONY TO HERMAN VAN PRAAG – Chair Peter Verhagen, The Netherlands

17:00 – 17:15 POSTER AWARD CEREMONY – Chair Alexander Moreira-Almeida, Brazil

17:15  CLOSING REMARKS – Avdesh Sharma, India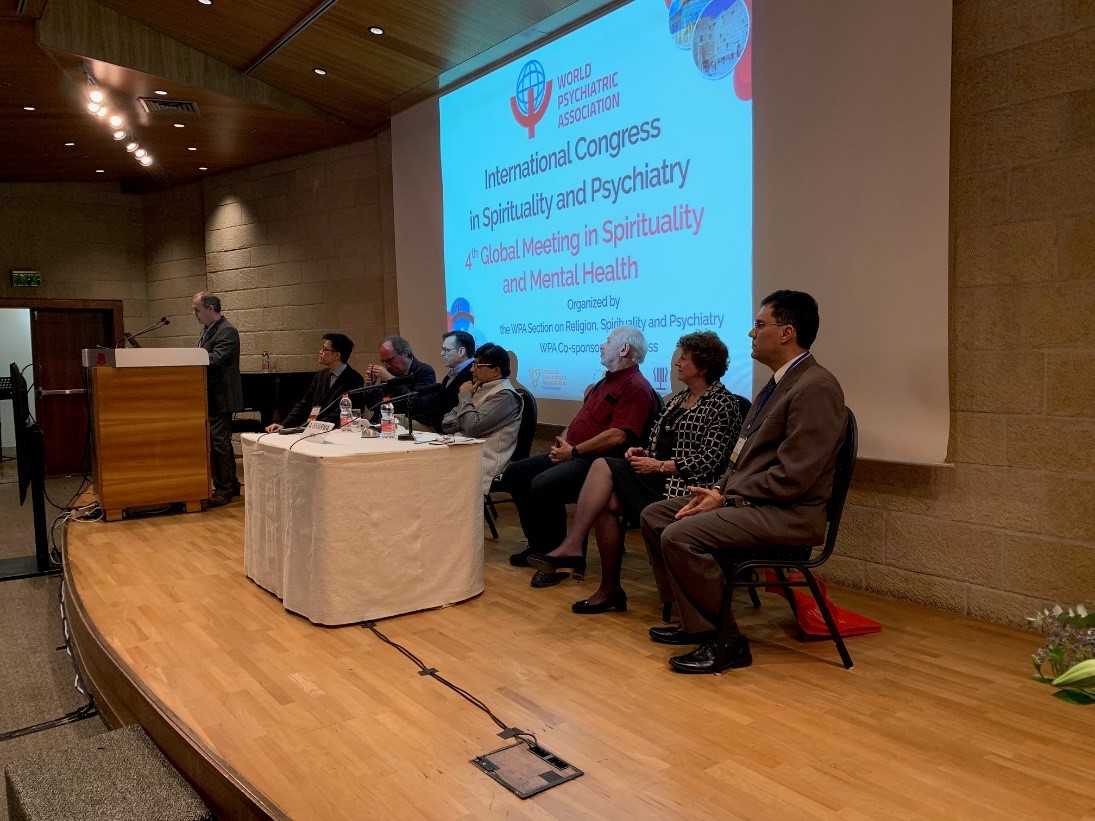 Opening:  Tsvi Fischel, President, Israel Psychiatric Association; Alan Fung, Peter Verhagen, Bernard Janse van Rensburg, Avdesh Sharma, Haim Belmaker (Organizing and Scientific Committee members), Helen Herrman (WPA President), Alexander Moreira-Almeida (Chair WPA Section on R/S&P)
Closing: Peter Verhagen, Haim Belmaker, Avdesh Sharma, Herman van Praag (receiver of WPA's Section on R/S&P's Founder Award), Alexander Moreira-Almeida Alan Fung
Prof Helen Herrman, WPA President; Prof Haim Belmaker Congress Convenor
Prof Alexander Moreira-Almeida, Chair WPA Section on R/S&P
Audience members 1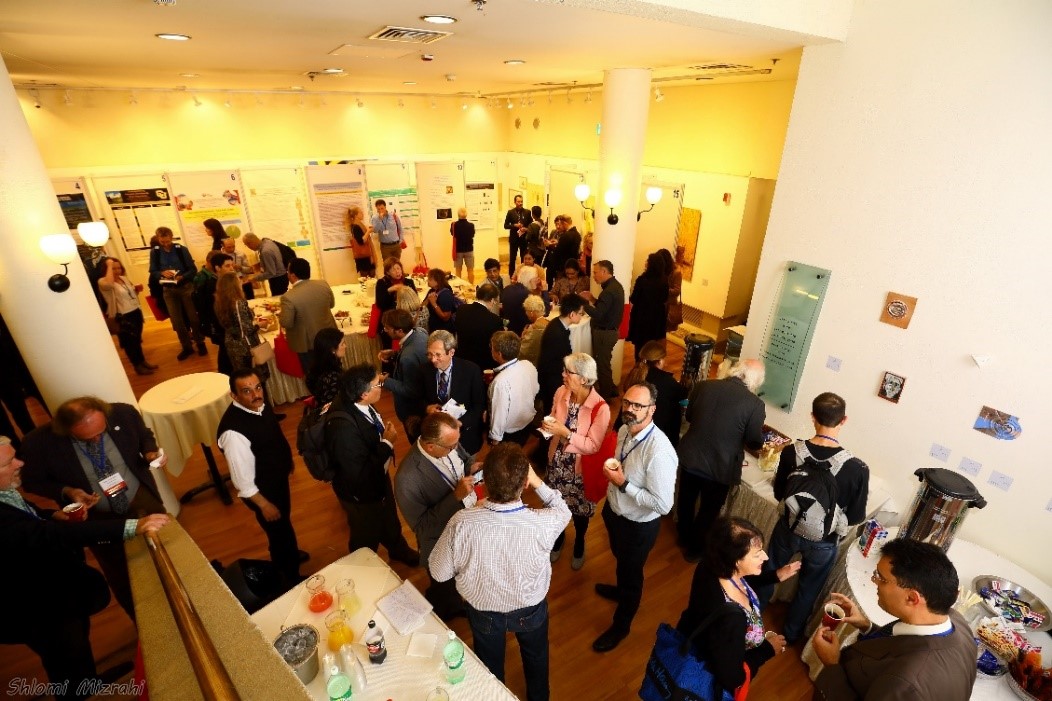 Poster presentation
---
wpa religion 2019 report

---
Aaron Winkler
American Journal of Psychiatry Residents' Journal 2020 15:4, 7-7